Cyberbullying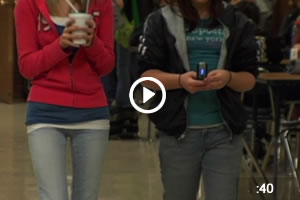 A person who uses technology to harass, embarrass, or threatens someone.
Examples:
Cyberbullying can happen when a student sends an anonymous e-mail to another student threatening to beat him or her up after school. Another form is when a photograph is altered to display a student's face with another person's body and then posted on a web site for public viewing.


Stay Safe:
Here are some recommended rules for teens that can help you as parents keep your children safe from cyber bullies:
Don't reply to messages from cyberbullies.
Do not keep this to yourself. Tell an adult you know and trust.
Save the e-mail messages and report it to the police.


Additional Resources:
Cyberbullying
Information tips and discussion starters about cyberbullying at NetSmartz.
Blogs, Bulletin Boards & Bullying
Watch this video from NetSmartz to learn how to talk to your children about the dangers of posting personal information online and the effect of cyberbullying on others.
Stand up to Cyberbullying
Tips for keeping your kids safe from Cyberbullies by Common Sense Media.
What's New Online - Cyberbullying
Information for Teens about Cyberbulling from ThinkUKnow.