Cell Phones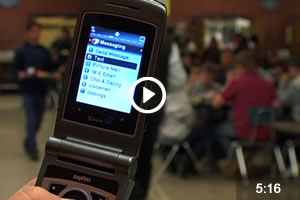 Using a cell phone to send and receive text messages and/or images, is very similar to using e-mail or instant messaging and some of the same safety rules apply. Your cell (mobile) phone can be a direct link between you and spammers, scammers, identity thieves, online predators and cyberbullies. Cell phones also allow users to quickly take pictures and pass them on to dozens of people.
Stay Safe:
Talk to your child about how a cell phone has some of the same risks associated with it as using the internet. Remind them to be cautious when taking pictures with their cell phone. Help them to understand the consequences of taking and/or passing along inappropriate pictures. Remind them that once an image is sent, it can never be retrieved.
Here are some tips and rules that can help you as parents keep your children safe while using a cell phone:
Only give your mobile number out to people you know and can trust.

Make sure you know how to block others from calling your phone.
Avoid posting your cell phone number online.
Before sending a picture decide if you would be embarrassed if your friends, teachers or parents saw it.

Remember that sending a sexual image to a minor is illegal.


Additional Information:
Cell Phones - NetSmartz
Cell phone information tips and discussion from NetSmartz .
Cell Phones Tips
Great parent tips on how to handle cell phone use by age group. Also includes a video with some suggested rules for cell phone use from Common Sense Media.
Talking About "Sexting"
When people take sexually revealing pictures of themselves and send them as text message attachments, it's called "sexting." Find out how to help you kids avoid sexting from Common Sense Media.