Online Gaming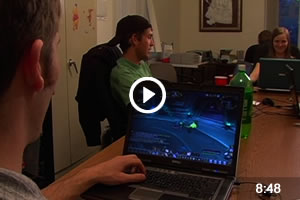 Internet games are played online via the Internet. They are distinct from video and computer games in that they are normally platform independent, relying solely on client-side technologies (normally called 'plugins').
Examples:
Some of the more popular games include World of War Craft, Halo, Half Life, and StarCraft. XBOX LIVE provides teens many opportunities to play online games with others.


Stay Safe:
Here are some recommended rules that can help you as parents keep your children safer when they are playing online games:
Don't give out your password to anyone except your parent or guardian.
Choose a user name that doesn?t include your age, gender, or any other identifying information.
Don't post personal information including photos.
Report comments to the gaming site provider if a person violates the rules.
Tell your parent or guardian about anything that happens that made you feel scared or uncomfortable


Additional Resources:
Learn More about Gaming
Information, tips and discussion starters about online gaming from NetSmartz.
What's New Online - Gaming
Information for Teens about gaming from ThinkUKnow.
Best Game Recommendations
Get a list of recommended games that are age appropriate.
Childnet on Gaming
Online safety advice