Communicate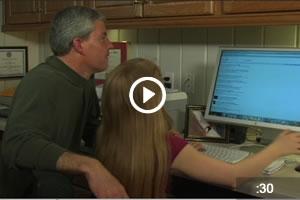 Keeping an open line of communication between you and your children is key to helping them stay safe online.
Help your children feel comfortable coming to you if something makes them uncomfortable or scared.
Talk honestly about Internet dangers.
Make sure children understand what personal information is and why they should guard it.
Share your online activities with one another.
Agree on clear, simple rules for technology use that apply no matter where you are.
Identify what websites are okay and when they can and can't be visited.
Talk about what is and isn't appropriate online behavior.
Conversation Starters
"Keeping kids safe online isn't about technology; it's about parenting."
- Larry Magid & Anne Collier (2007), MySpace Unraveled
Our family has rules about going online, they are...
How big is the Internet? What happens to the information you put online?
Have you ever seen or read anything online that makes you feel uncomfortable? It's okay to talk to me about that.
Do you know how to get out of a situation that makes you uncomfortable? Close the program and talk with me. I won't get mad - together we can keep you safe.


Communication Tips
Safety Pledges, Rules of the Roads and Parent-Child Contracts
Safety Pledges
Age-appropriate safety pledges were created by Netsmartz for parents and guardians to facilitate in-depth discussions about internet and real-world issues with children.


Family Contract for Online Safety
Parents and kids should agree on the "Rules" for Internet use. Here are two pledges that both kids and parents can take.


Know the Lingo
Online Lingo/Acronym
View a list of commonly used Acronyms used by kids in text messeging, instant Messenger (IM) and chat rooms.