Stay Safe
5 Ways to Keep Safer with Technology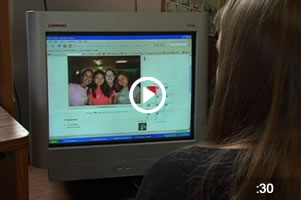 1) Talk About It
Keep an open line of communication between you, your spouse and your child. Having a good relationship is one of the best ways to help your child be safe. Also,
Agree on clear, simple rules for technology use that apply no matter where you are.
Identify what websites are okay and when they can and can't be visited.
Make sure children understand what personal information is and why they should guard it.
Talk about what is and isn't appropriate online behavior.
Share your online activities with one another.
See Communicate for more tips, including conversation starters.
2) Implement Safety Tools
You can create a safer online environment for your children with software that filters content and monitors traffic through computers, online games, cell phones and other devices.
Try Google's "Safe Search Filter" and/or K9 Web Protection from Blue Coat, both available online for free.
Set the controls for online games and cell phones to an appropriate level for your family.
3) Avoid Isolation
One of the simplest yet most effective ways to keep children safe online is to keep computers in a central location where others can see the screen. Avoid locating a web-enabled computer in a bedroom or other private space.
4) Guard Personal Information
Be sure everyone in your family understands what constitutes personal information and when it is and isn't okay to share it. Even a little information here and there can be put together to create a revealing profile. Also,
Keep all software up-to-date.
Resist clicking on or otherwise accepting pop-ups, free offers and downloads (including music from sites such as Limewire and Kazaa).
Install anti-virus and anti-spyware software such as Microsoft's free Security Essentials, Norton Internet Security or MacAfee Internet Security. Note that some Internet service providers include a subscription to a security service at no extra cost.
5) Don't respond to online threats: save evidence & report
If you or your child encounters something mean, pornographic or otherwise inappropriate in an email, text message or website, resist the urge to lash back or delete it. Instead, save a copy and show it to the authorities. See Get Help for information on reporting cyberattacks.

Learn More About These Risks
The Internet is filled with great opportunities for learning and socializing. Unfortunately, it also can make it easy for the wrong people and information to find its way to minor children. Explore these links to learn more about staying safe online:


NetSafe Pledges
Help children stay safe online with age-appropriate reminders of NetSafe behavior.
Additional Resources:
Be Internet Awesome
Helping kids be safe, confident explorers of the online world.


Interland
An online adventure that puts the key lessons of digital safety into hands-on practice with four challenging games.